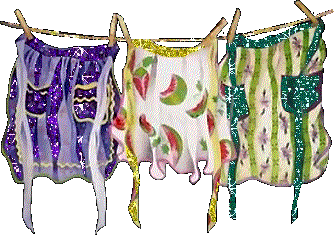 Okay Ladies,

It's time for a little confession...

A few weeks ago, I had a college class and couldn't attend prayer meeting. I left the kids at the church and instructed them to find a ride home with their uncle or other church member. I also delivered a threat that maybe a few of you have utilized. "Do not, under ANY circumstances, bring anyone into the house when you come home!"

It appeared as if Hurricane Katrina had paid us a personal visit instead of the water pump having been off for four days (my excuse for the whole mess! lol). To be honest, I was afraid that someone would call the president to declare my kitchen a natural disaster area. You know what that would mean! TV film crews... national coverage... the whole world would see me at my worst... a woman's worst nightmare.

Every now and then, life gets crazy and destroys our willingness to invite people into our homes, our lives, our hearts - depending on whether we're talking in a physical, emotional, or spiritual sense.

It all kind of struck home when I was reading Luke 24:28-31.

28. And they (Jesus and his disciples) drew nigh unto the village whither they went: and he(Jesus) made as though he would have gone further.
29. But they constrained him, saying, Abide with us: for it is toward evening and the day is far spent. And he went in to tarry with them.

What if I had been the lady of the house?

30. And it came to pass as he sat at meat with them, he took bread, and blessed it, and brake it, and gave to them.
31. And their eyes were opened, and they knew him ...

It looks like I would've missed out on a golden opportunity. Maybe it's time to do a little decluttering!