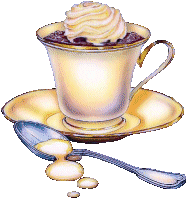 It's a hot chocolate kind of day here in PA. The view from my window is gray and white beyond the drip of melting snow falling from the roof. There's no sun in sight even though the weatherman promised some today.
While I'm sipping my hot chocolate, I'm going to write the ingredients for these homemade marshmallows on my grocery list. It had never crossed my mind to try homemade marshmallows until I came across this clip on You Tube. Now I can't wait to try :0)
Note: I have reviewed and approve this clip only. You Tube uses collected data from the Internet and the computer you are using to suggest other clips. Please use caution and common sense when exploring other clips they may suggest. I have no way of predicting these suggested clips.